Kid in a treehouse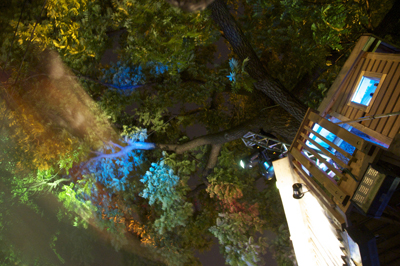 This past weekend was our annual neighborhood party, Retro on Roscoe. It's a all-out fest that ignites the blocks around it for 48 hours. As such, some friends of ours host an annual pre-party that spans all five of their contiguous backyards — something you don't often see in the city.
I was asked to DJ the party whose theme this year was "Boogie Nights", basically 70's tunes infused with other tracks that carry forward the ethos from that era. The booth was a treehouse smack in the middle of the party which we outfitted tip-to-tail with music and lighting gear. I played from 8pm to 3am and, though I almost wet myself (with no backup until late), it was an astounding event.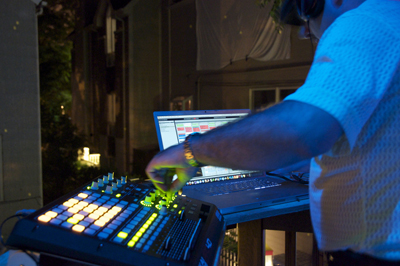 I had a stripped-down setup (compared to, say, Christmas Party), but it was ample. Just the Macbook Pro running Ableton Live, a Native Instruments Audio Kontrol multichannel interface, and an Akai APC40 control surface. The Akai was perfect, a monome-esque grid with the knobs and sliders of a Novation SL Remote — though far sturdier.
I had hundreds of song fragments pre-loaded and warped — something that gave me almost unlimited flexibility to respond to the crowd without letting things drop. I even entertained requests from those brave enough to scale the nearly vertical steps.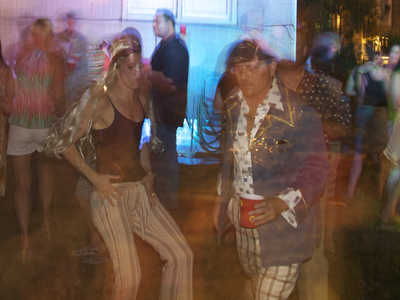 I didn't want to come down. Why? Let's recap. I was in a kickass treehouse with another geek (Tom, on lights), a good friend, and a cooler of beer. We were controlling several hundred watts of music and commanding the best view of the space. Sure, we were one chain link's failure away from death by falling steel, but if that's how I was supposed to go, I wouldn't complain.
A few have asked for a recording from the night. I'm still cleaning up most of it, but here's an excerpt from when I think the most people were out in the yard dancing. (Specifically the slightly sped-up Diana Ross with a few claps and bloops layered on top was the pinnacle, if memory serves.)
[Download]
Full photoset here.
PS – I'm two-for-two luring Chicago's finest with low frequencies. I suppose next Christmas we'll go for the hat trick.