All good things.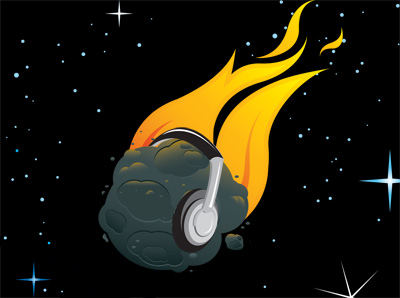 It's been two months now since we wrapped it all up. Could be that my lateness in writing about it was just to make sure that we really did mean that it was over. Or maybe I didn't want to think about it being over. Most likely, it was sheer exhaustion and a house that needed putting back together.
In any event, certain parts of our final holiday party do need to be told. Sweet damnation, it was an amazing way to go out.
I've detailed the evolution of this particular fête previously, so I'll just lay out the specifics. On December 11 my wife and I hosted the last event, completing an unintended triad of "world"-based themes that began two years ago with Around the World, continued last year with Out of This World, and culminated in this event, decisively, as The End of the World.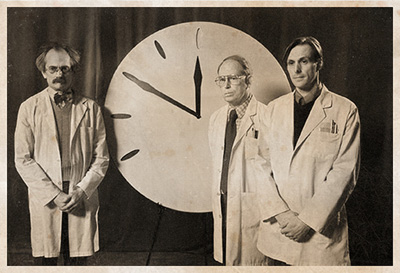 Newsflash: apocalypse isn't the classiest theme for what is essentially a Christmas party. New Years Eve sorta has that tipsy tinge of impending end, but it's never really the end, just a marker. (Except when the millennium flips, of course, and full-on pandemonium is acceptable.) We toyed with "at world's end" as a physical location, ala Shel Silverstein's sidewalk or cartographical terra incognita. But neither of these worked as well as the pure mayhem of doomsday.
Eschatology, it turns out, is a wonderfully flexible concept, so we went with it. Mad Max meets the Four Horsemen by way of Al Gore. With lasers and martinis.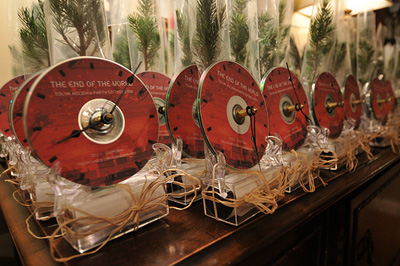 The favor was a special challenge. The party takeaway has traditionally been some form of music-delivery medium and, though I have long since stopped considering compact discs adequate to this task, the truth is that they did lend themselves astonishingly well to what we came up with. See, it's a clock. Tick tock, tick tock, time's up. Get it?
We figured most people wouldn't make the connection to the doomsday clock, though there is something wonderfully creepy about a bunch of clocks ticking out of time with one another (cf., Orbital's "The Box" remix, part of the audio excerpt below).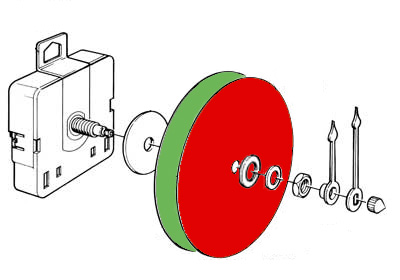 The clock face was composed of two CD's — Doomsday and Rebirth — which were smooshed together and bolted onto the clock axle, as below. To listen to the discs you had to dismantle the clock, which consisted of unscrewing a single nut.
The clock sat in small frame which itself rested on a small "time capsule" that contained a scroll with holiday wishes and a reminder not to come back next year.
The last piece, really the only thing having to do with rebirth, was a small (live) spruce sapling hooked to the back of the clock rig. It all looked rather nice, festive even, though it was awfully time-consuming to assemble and frightfully delicate. I'd love to know how many clocks made it in working shape back to partygoers' homes at the end of the night.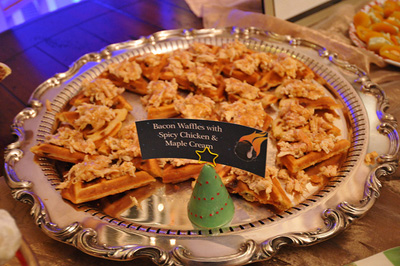 At the end of the world we will eat pork, a sign declared. We're still not sure what that means, but the porktacular was a hit. With a nod to our stockyards, I'll note that we used everything but the oink. Faves included the Bacon Waffles with Spicy Chicken and Maple Cream and the Red Velvet Cake Ball Meteoroids. (Here's the full spread.)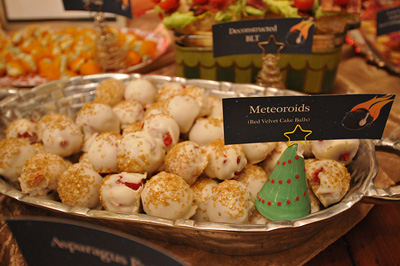 Fingers the One-Handed Bartender returned this year and was responsible for much mirth, day-after illness, and possibly one pregnancy. We had intended to enlarge his veal pen of a bar area but never got around to it. We did however rig a display above his head that gave details on the custom drink menu. And the DJ booth had a special trigger for thirst, below.
Possibly my favorite new addition to the party was the DJ outfits. Last year we donned jackets festooned with electroluminescent wire, a tough thing to upstage — but in the intervening year the iPad had been released. And of course it wasn't difficult to find shirts custom-reinforced to accommodate an iPad slid right into it. It was great fun. We had disaster video, spectrum analyzers, music-appropriate imagery, and all manner of screensavery stuff.
But the most fun was a LED ticker-tape app that allowed tweeting directly to it so that the crowd could scroll their own messages right across our chests. (Pretty sure that snippet below is "And the DJ is doing a great job" a brief interlude between what-a-bunch-of-nerds themed tweets.) The account's still live, by the way. Maybe you'll catch me wearing the iPad at work?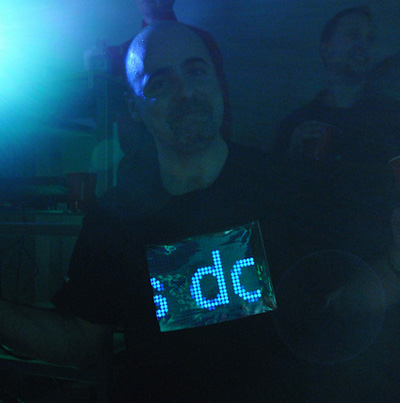 Other new additions this year included a drink shelf below the perishable electronics in the DJ booth. Call it a lesson learned from last year. The mirrored tree cones, staple of most past parties, also got custom spinners to throw disco ball shards of light around the room to remind everyone that they were, in fact, in a post-apocalyptic hell. And the popular photo booth had all manner of goodbye-cruel-world props.
Custom posters inspired by Britain's wonderful WWII anti-panic propaganda decorated the house. (If you have not tried the Keep Calm and Carry On Calm-O-Matic, you really should.)
Lastly in the new things category, we went low-tech with a "memory board" for people to scrawl their thoughts about the last decade of bashes. It remained remarkably free of crude comments for much (but not all) of the night.
And yet it is the music and dancing that defines and prolongs this party. We didn't have much luck recording the full set of Jesse Kriss, Michael Tolva and I this year, but this self-contained set does exist.
Conveniently, lots of people were singing about armageddon in the 1980's. Thanks, Strategic Defense Initiative!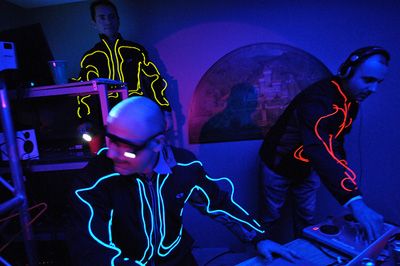 The EL jackets returned, of course, made seemingly all the fresher by the release one week later of Tron: Legacy. Way fun, way photogenic, and way too goddamn hot.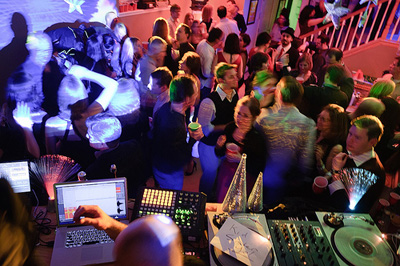 This year our visuals maestro Tom Herlihy did not have a calendar conflict with Kabul, Afghanistan and so was able to man the lights and projectors during about an hour of sobriety. Tom's ever-able understudy Chris Gansen also lit it up, so to speak. For once in a club setting the air raid siren made sense.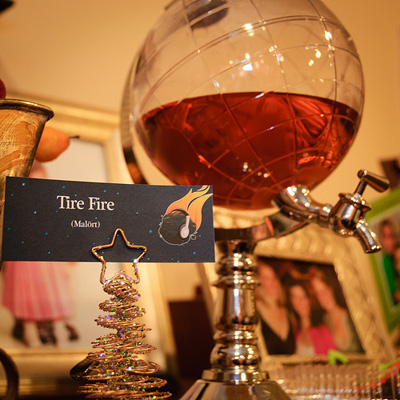 The liquor globes made a comeback as well. Luckily Malört, Chicago's very own rotgut, neatly tied together our love of the Windy City and beverages that pretty much ensure that your world is coming to an end.
Which is a nice seque to illness. You could say that we were on-theme with pestilence, but the sad truth is that it seems our home — usually infested with the virus that is small children — was coated with a fine film of some mutant strain of stomach flu. Several got ill, including my mother-in-law who spent the entire party in the dual perditions of non-stop barfing and having to listen to four-on-the-floor bass until 4 AM.
The other casualty was Jesse Kriss, the DJ savant and ringmaster of the music-making that has jolted the past few years' parties. Yet, Jesse played for at least 90 minutes, ashen-faced but not so lethargic that he couldn't whip the crossfader. It was magic to watch, until he too collapsed into a bed upstairs and merely felt the party through the house frame vibrations. I think Joey and I did a pretty good job keeping the music interesting, but it simply was not the same without Jesse as mixmaster of ceremonies.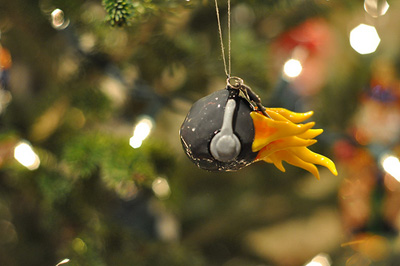 Some people didn't believe that this was the end, but many knew. You could tell from the thoughtfulness of the hostess gifts, such as the handmade party logo ornament above and the retrospective photobook.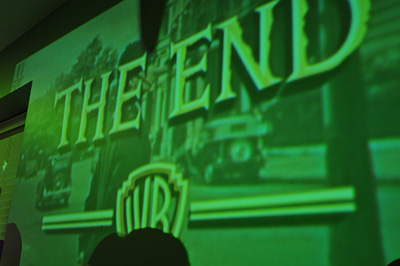 Right, so. No need to dwell on it. It was a great run. I'll sum it all up with the text from the note we included in the time capsule. (Mind the sap. It's sticky.)
Who the heck throws a holiday party with doomsday (and rebirth) as a theme, you might be wondering? Fair enough, but it's a useful summary of the diverse emotions we feel as we end eleven years of parties with our favorite people. What started as a small gathering of disparate groups of friends as we were just getting our bearings as (kidless) Chicagoans has grown into an intense labor of love that is easily the highlight of our year.

But labor it is, and we feel our work is done. Energy that was poured into this spectacle now goes elsewhere, primarily to the three lovelies you see below, but also to you all — just in different ways. We know we're lucky to have such happy and fun-loving friends and we're immensely grateful you've chosen to spend a night of your year with us.

So let's not focus on the end but rather the fun we've had and what comes next. A healthy 2011 to start, followed by more good times, and maybe a beautiful blue spruce in your yard many years from now.
——–
Here's the full photo gallery.
Curious about past parties?
2009: recap | photos | giftmix | livemix
2008: recap | photos | giftmix | livemix
2007: recap | photos | giftmix
2006: recap | giftmix
2005: giftmix