Day Thirteen – Tetonia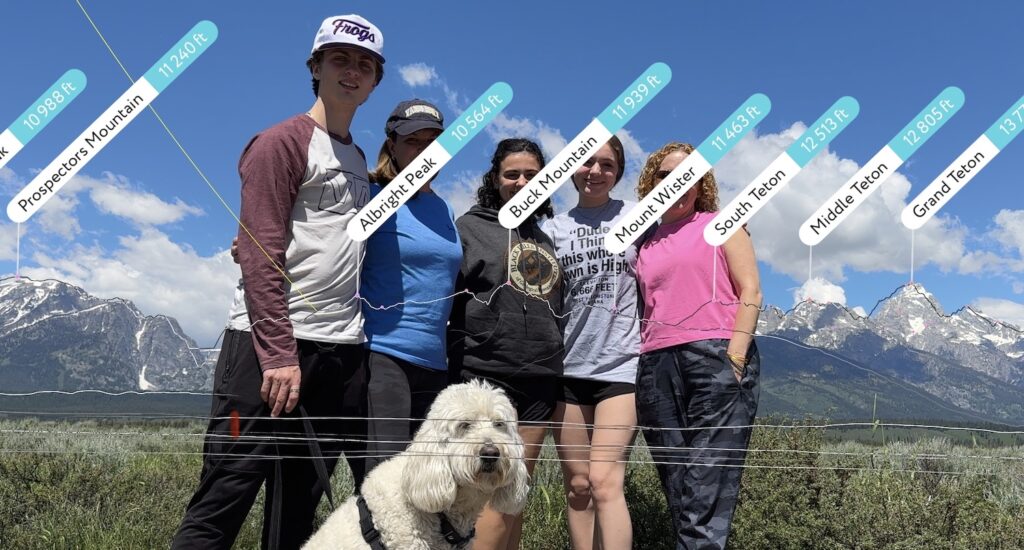 Let's get the important update out first: I have been reunited with my my zip-off hiking pants, forgotten on departure, but delivered with the arrival of my wife and son. These pants are the ultimate old man accessory, first introduced to my family — to the horror of my siblings and I — on a trip to Rome in the 1990s. It was hot as blazes and Catholic churches there banned entry in shorts, but my father solved this with zip-off pants. No one looks like a tourist so much as a middle-aged man zipping on/off leggings next to a public fountain outside of a church, I say. Anyhoo, fast forward almost thirty years and I love these things. So convenient for the temperature swings of high elevation summers. And I'm here to say, like my father before me, my pantaloon transformation atop Signal Hill at Grand Teton today was just as mortifying for my children (and wife, and sister, and niece) as anything my father pulled off. +1 me.
It was a day of touring Grand Teton National Park. Starting with an actual sit-down brunch, grabbing delicious packed sandwiches for lunch, it is almost like there are actual adults on this trip now. We merry six (and dog) tooled around the park hitting an itinerary of sights assembled by my son and resisting the urge to take photos at every turnout. It's almost comical how scenic this place is. None of the earth-on-fire drama of Yellowstone, but Grand Teton is majesty at nearly every turn. Perfect weather too.
My sister and I embarked on our search for the site of the buck rail fence photo we thought my father took at Big Timber (see Day Five and Day Eight). We got close, but it wasn't exactly right. Pretty sure we know where it was taken now and will continue the search as we head back into the park. (We did find a cool "outtake" from my father's slide roll way back when with a kind of self-portrait.)
Checked off two more animals today. We saw a coyote scampering across the road and into a meadow. You have to hand it to coyotes. Maligned by everyone from ranchers to city dwellers, these beasts are the only creatures of the plains whose numbers have increased in the last century. They are resourceful and adaptable, basically un-killable. I wish the same could be said about the pronghorn "antelope". But we did spot a few way off in the distance thanks to my son. And then there was the bull elk without a care in the world munching foliage just inside the tree line off the side of the road causing a multi-car pileup of enchanted humans.  
Next up: more Teton and a visit to the town of Jackson.