Day Sixteen – Overboard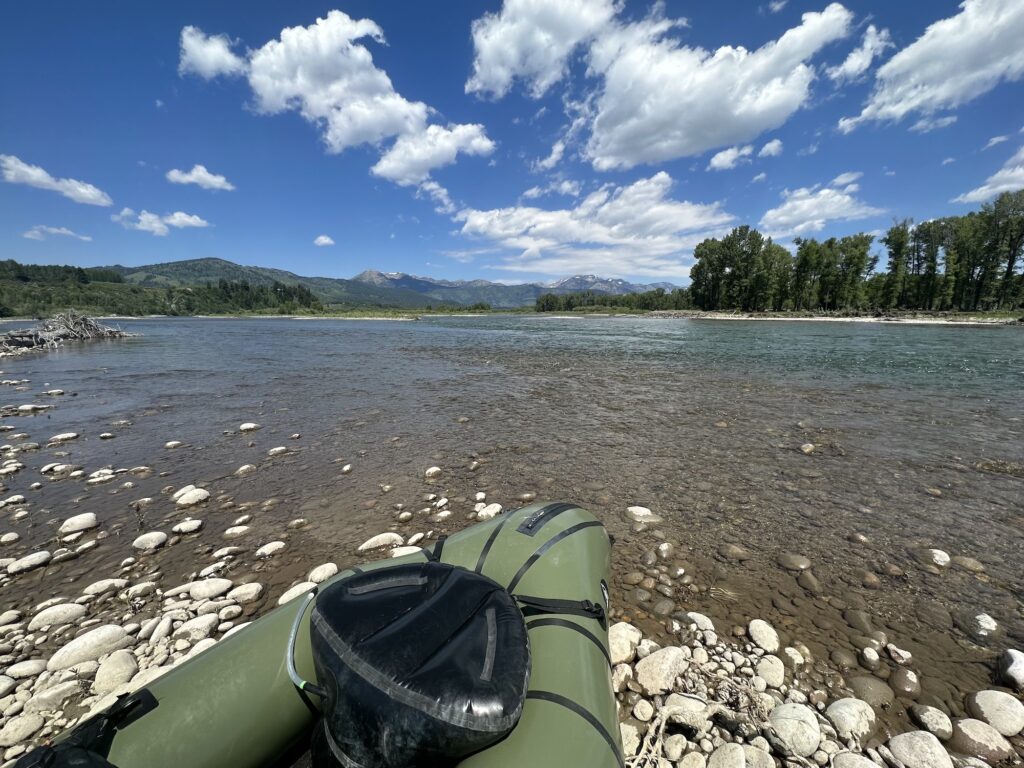 The river it was not so lazy. Fell out of the boat today. Not once but twice. You know those stories of people who murder their spouses in the wilderness and then claim their partner slipped while hiking? Today was like that minus the intent to murder. I think.
Went up and over Teton Pass to have a day on the Snake River. Perfect weather, stunning views. We had a big main raft, piloted by our able guide Justin, and then a smaller pack raft for two people. I was in the small raft with Robyn. We weren't 25 yards off the boat launch — in admittedly the roughest part of the whole stretch — when she and I slammed into a highway bridge support. Our family was in the other raft on the opposite side of the piling. They saw two people head under the bridge in our raft — and only one emerge. I had been dumped overboard, you see, without any witnesses. Upside: she could have finished me off with the oar, but this did not happen.
It was actually quite refreshing and legitimately enjoyable dangling there under the raft until I could be hoisted back up. (I did lose my beloved 23-year-old Tilley hat.) But that was only the first spill. The second one, less fun.
After a shore lunch we rearranged the crew manifests and put my niece and I in the little raft. We got separated from the main raft on one of the countless oxbowing braids that eventually fed back into the main channel. Not a problem. The stretch we were on was narrower and thus faster and we had to maneuver around a lot of tree debris, but other than that we were having a fine time. Until we weren't. We still don't know what happened (though maybe we were distracted looking for shoreline moose?), but in an instant we were both flung from the raft and it flipped over. And now we were flotsam on a liquid conveyor belt moving far too fast for us to stop ourselves on the bottom. The good news is that millions of years of constant tumbling meant that the river rocks were perfectly smooth. Some battering but no slicing. (Except for the dead trees under the surface: those sliced.) But again, it was all moving too fast. 
I was able to grab an overhanging branch at one point but could only hold on for a few seconds. The raft held by my other arm was a sail channeling all the force of the river. So I let go and down we went again. It was a little frightening at points, honestly, as I could not see my niece at all times on the other side of the capsized raft. So I asked her to keep talking. Only way to know if she were above water. We tried to swim for shore, but hydrodynamics said nope. Eventually two kind kayakers came from upriver and helped us onto a shoal where we were able to right ourselves. My watch immediately asked me if I would like to record an outdoor swim. Which, sure! It logged a workout time of 21 minutes, but I don't think we were in the drink for that entire time. Maybe? Out of the water I was shivering uncontrollably. I'd guess the water was in the low 50s so I wasn't in hypothermia territory, but still: freezing. And just then the main raft came around the bend. My niece and I were done with the little raft and Justin rowed us, huddled in dry towels, to the take-out.  Through all that it was still extraordinarily fun. I feel like I know the Snake River now.
The pace of the trip has slowed as we've synched to the rhythm of people who actually live here. A denouement back into the real world — with a big party (final orchestra crash!) to end it all.
Up next: America's birthday in a small town in a red state.