Hot off the grid(dle)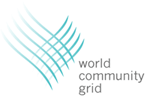 Today the World Community Grid opened to the public. Basically IBM has developed a distributed computing system (think SETI@Home) for tackling major problems in science and health, all with a humanitarian bent. Coverage in the Times and the Trib.
Rejoice, for now you can satisfy your hitherto unmet desire to crunch human proteome data with your computer's free processing cycles.