Searching, searching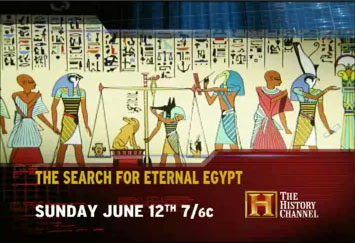 Remember those trips to Egypt from late last year and early this year where I was traipsing around with a film crew? Well, the documentary is finally going to be broadcast and I'm very pleased with it. Kunhardt Productions and especially the writer-director Graham Judd did a fantastic job. I get to play armchair geek Egypt tech guy in the last part of the show.
The subject of the show is the history of Egyptology, a survey of major trends in the discovery and documentation of Egypt's historic past. The work of my team at IBM and our partner CultNat on the Eternal Egypt project is featured in the final "act" of the show — the high-tech continuation of a tradition of documentation and preservation that stretches back in the modern era to Napoleon. My team also developed the prominently-featured 3-D environments used to illustrate certain segments of the show. The fidelity and dramatic quality of these environments surpass anything on the website.
We don't chisel into the pyramids with a robot. We don't claim to have found the mummy of Nefertiti. We don't even mention the death of Tutankhamun. But this is why you are going to tune in, right? Something fresh!
More information at The History Channel.