More fun at SxSW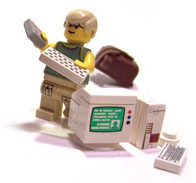 SxSW 2006 is less than two weeks away. This will be my first trip to the fest/conference/party excuse, though in certain ways both my professional and family center of gravity is in Austin (OK, one of my centers of gravity).
Because the speakers and bands and screenings simply won't provide enough stimulus some folks have created the SxSW Interactive Playpen. Done wrong it could be as grimy and soulless as the free building areas of LEGO stores; done right — and there's no reason to believe it won't be done right — it could be a hell of a lot of fun. Can't wait.
Oh, I'm also a panelist on the first day: Convergence and Transformation. That'll be fun too. Bring some LEGO blocks.
Fellow Chicagoans Jason Fried and Jim Coudal are the keynotes.
Gonna be there and want to meet up? Let me know: