Weakened warrior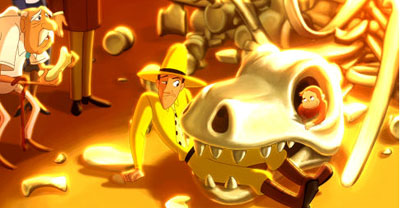 I saw Curious George with my son this weekend. Of all the plush sleeping aids that I had as a child I now retain only two. The first is my original blanket, now ripped, fringeless, and still smelling of decades-old urine from a bit of a bedwetting problem. (I don't want to talk about it, 'kay?) The other is my Curious George doll. Oh how I love(d) that monkey. One of my favorite childhood memories was when my mom, a nurse, would perform surgery on his armpits when he'd fray. We were fully smocked in operating room fashions. But I digress. The movie stayed true to the George I grew up loving and it manages to weave in at least parts of most of the books. I loved the ending where a triumphant Man In The Yellow Hat saves his museum by transforming it from a dusty, dull repository to an interactive, lively experience through the power of, yes, curiosity. Oh, and he and George end the movie in a rocket ship. Museums and rocket ships, wow. Where's my yellow hat?
Staying in the spirit, my son and I built a great fort in the basement last night for movie watching, goodie-eating, and hiding from mom. We slept in it. Wow, was this a mistake. Nostalgia gone too far. My son loved it, slept sound as a rock. I slept little, alternating between being frozen stiff and just stiff from the comforter-on-concrete amenities. No bedwetting, though.
As a sidenote and just to worry my readers a little more that this is becoming a parenting blog (it's not), my old post on cyborgs and toddlers is on the front page of Parent Hacks today.